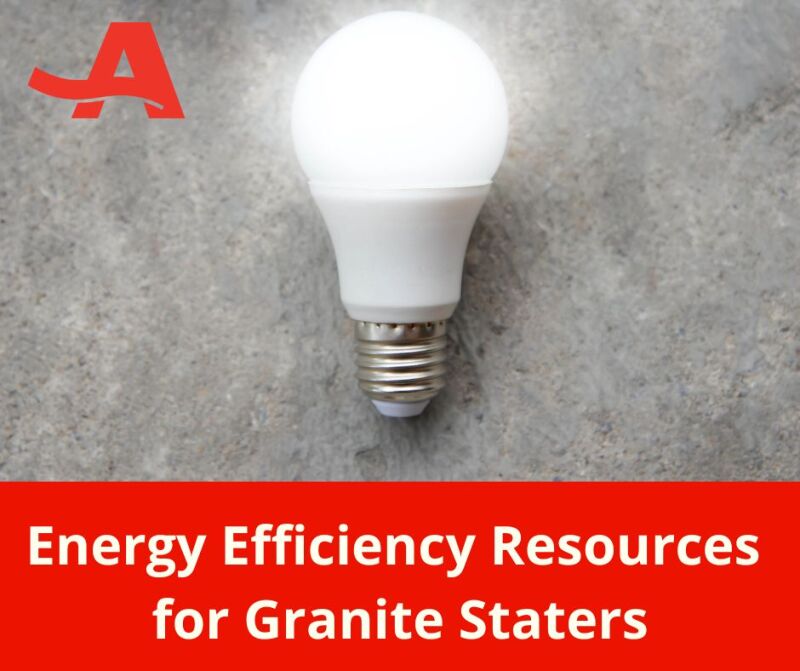 AARP NH Offers Tips and Resources to Help You Save

No matter the season, New Hampshire temperatures can be extreme with hot, humid summers and frigid winters. Heating or cooling your home gets much harder when the cost of electricity and natural gas are on the rise.

The upcoming spike in electricity rates is complicated but it includes the dramatic increase in the cost of natural gas used to generate electricity which has tripled in price. These increases add to the financial burdens forced upon us all, like the inflationary costs of food, medicine and gasoline. Customers across New Hampshire, regardless of utility company, will see these increases in their bills over the coming months.

Because utility rates are an essential pocketbook issue for all New Hampshire residents, especially those 50+, AARP New Hampshire is concerned about how they will impact 50+ Granite Staters and their families. That's why we want to offer some tips and resources to help you better manage those costs.

We want to ensure all households, regardless of geography and income, can afford to purchase energy for heat, for cooling, for appliances, and for hot water.

AARP New Hampshire offers the following resources and tips to help with year-round energy expenses:

TAKE ADVANTAGE OF RATE AND PROGRAM OPTIONS:


Sign up for budget billing plans. Local utility companies (Eversource, Unitil, Liberty, New Hampshire Electric Co-op) allow customer to spread their energy costs across the year by basing monthly payments on a household's annual usage.

Seek a deferred payment plan. A deferred payment plan allows customers to pay a flat amount each month. Check with your energy provider for details about their plan (Eversource, Unitil, Liberty, New Hampshire Electric Co-op).

Apply for Critical Care of Chronic Condition Status. Customers who need power to their home because of a medical condition may be able to apply for Critical Care or Chronic Condition status. Some states offer support to residents living with a medical condition that could become life-threatening if the home were to lose power. These designations could provide flexibility to avoid losing power if you cannot pay.

NH Emergency Energy Relief Programs: provides relief to Granite State ratepayers amid skyrocketing energy prices nationwide.

The New Hampshire Weatherization Assistance Program: is designed to reduce household energy use and costs in the homes of low-income persons throughout the state by installing energy efficiency improvements.

New Hampshire's Fuel Assistance Program. This is a utility assistance program designed to help low-income households in New Hampshire meet their immediate energy needs and control energy costs. Eligibility requirements.

NH Saves: Your source for energy efficiency
WEATHERIZE AND BE PREPARED:
Weatherize with low-cost conservation measures. There are some simple but effective ways to keep temperatures controlled in your home:

o Install door sweeps or weather stripping.

o Weatherproof doors and windows,

o Caulk cracks around doors and windows,

o Have your air conditioning and heating systems regularly serviced and repaired.

Be prepared for a power outage:
o Know where your flashlights and candles are,

o Make sure you have fresh batteries and, if you have one, your generator is powered and ready to use,

o Make sure your cell phones are powered, and

o Develop a plan for emergencies, including water, prescriptions, and non-perishable food available.

NEW HAMPSHIRE ENERGY RELIEF RESOURCES:
NH Emergency Energy Relief Programs: provides relief to Granite State ratepayers amid skyrocketing energy prices nationwide.

LINKS TO Energy Saving Resources and Tips from NH Utility Companies

TIPS TO REDUCE ENERGY CONSUMPTION AND INCREASE ENERGY-EFFICIENCY:
o Install a programmable thermostat and manage it accordingly.

o Make sure your air conditioning filter is clean, so you might want to replace it monthly.

o Change furnace filter regularly.

o If you are updating or replacing your air conditioner, make sure it is the most energy efficient model you can afford.

o Open windows if it is not too hot.

o Use ceiling fans.

o Cook outside.

o Install energy efficient window treatments.

o Seal ducts.

o In the winter, bring in sunlight to light your home.

o Turn off unnecessary lights and appliances.

o Take shorter showers.

o Turn off water when shaving, washing your hands, brushing teeth.

o Fix faucets with hot water leaks.

o Not home? Turn off the air conditioner.

o Try to cut loads of laundry by running fuller loads.

o Wash laundry in cold water.

o Hang dry your laundry.

o Skip the heat-dry setting for your dishwasher.

o Use your microwave, crock post or toaster oven instead of your stove.

o Close the shades or blinds on the south side of your home during hot days.

Thank you to Eversource, Unitil, Libery and New Hamsphire Electric Co-op for their permission to share these valuable resources.